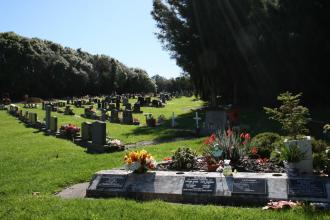 There are five Council-owned and operated cemeteries and two privately-owned cemeteries in the Whakatāne District. For the Council-owned cemeteries, contact Customer Services for further information on 07 306 0500.
Council-owned Cemeteries
Domain Road Cemetery, Whakatāne
The Domain Road Cemetery is believed to be the first European-style cemetery established in the Whakatāne township. The first recorded burial there was in 1899, but it is known to be older than that. The cemetery has never been officially closed, as there are purchased plots still unused. The Council are no longer accepting burial requests for the Domain Road Cemetery. Ash interments are still being accepted.
Hillcrest Cemetery, Whakatāne
Hillcrest Cemetery is on the Whakatāne-Ōhope Road. The first burial recorded was in 1944, and its 5.6 hectares have been developed to include a Garden of Memories, lawn cemetery and memorial cemetery. A separate RSA section offers areas for burials and ashes. The cemetery is located in a very peaceful area, with large trees and gardens surrounded by farmland. The Council employs a full-time sexton to maintain the area.
Hillcrest Cemetery and Crematorium Overview Map (2011) - (PDF, 5 MB)
Tāneatua Cemetery
Located on the outskirts of the township, Tāneatua Cemetery services the wider Tāneatua area. It's nestled on a hillside amongst a variety of mature trees. The first recorded burial was in 1918.
Waimana Cemetery
Until recently, this cemetery was administered by the Waimana Domain Board. A small, rural cemetery, it services the wider Waimana community. The first recorded burial was in 1912.
Murupara/Galatea Cemetery
Located on Cemetery Road, Galatea, only a small portion of this cemetery is used for burials - the rest is leased to a local farmer. There are designated RSA, Protestant and Catholic plots, and an RSA ashes wall. The first burial was in 1966, and the cemetery is used mainly by Murupara and Galatea residents. The area is well-planted and in a quiet, peaceful spot.
---
Other Cemeteries
Awakaponga Cemetery, Matatā
Located on a hillside just outside Matatā, Awakaponga Cemetery is in an attractive setting surrounded by farmland. The contact person is Venus Patterson on 07 322 2470 or 027 410 2684.
Grant Family Cemetery
Nestled amongst a 3.6 hectare Council-owned woodlot, this cemetery has five graves: James and Amy Grant, their son Ian, their daughter Kit and her husband Tex O'Connell. The first burial was Amy Grant in 1924, with the last being Kit O'Connell in 1959.
---
Burial Plots
To obtain a burial plot at any of the above Council-owned cemeteries, contact Customer Services.
How to find relatives buried in a Whakatāne Cemetery
To find a buried relative in a Council-owned cemetery, please contact Customer Services.
---
For more information about cemeteries administered by Whakatāne District Council, contact Customer Services on 07 306 0500 or email info@whakatane.govt.nz.